LEADERSHIP PATHWAY FLOWCHART
One of the goals of the Central Pacific District (the CPD) is to develop emerging leaders for the Kingdom. The following flowchart shows the steps from making the first connection to enjoying a lifetime of service with the District. Mentors will be assigned to the emerging leaders along the way to guide and encourage you so that you can live out God's calling for you in gospel ministry.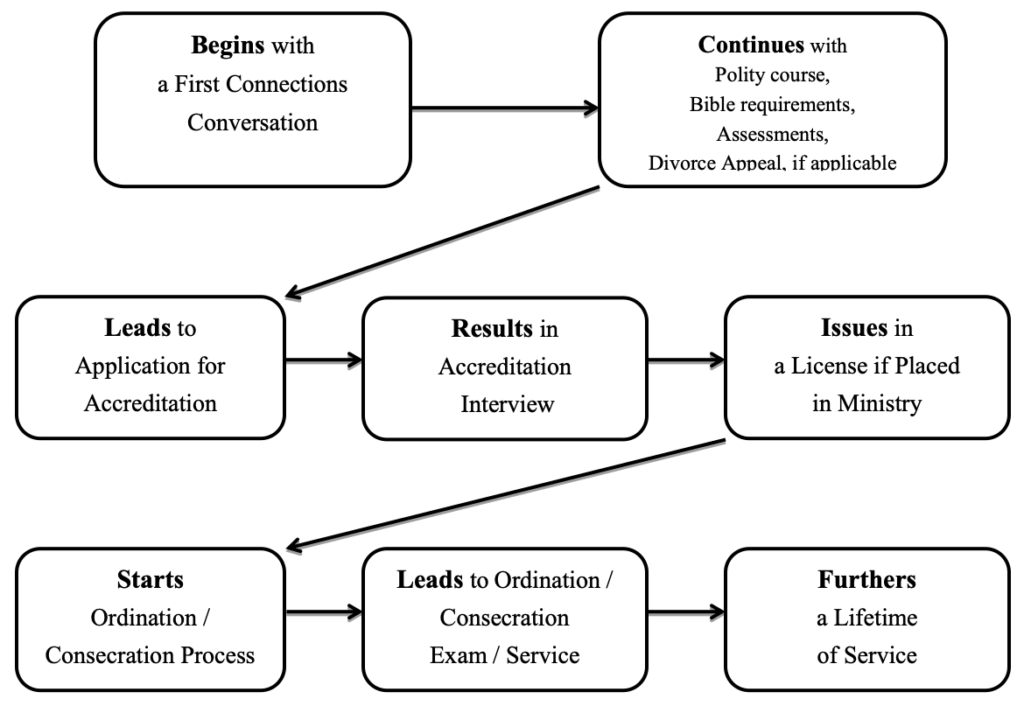 FIRST CONNECTIONS
If you are interested in serving within the CPD, please contact Janet Spriggs at [email protected] to schedule a First Connections meeting. The purpose of the meeting is to assess if the emerging leader possesses the six core characteristics of an Alliance Worker.
Related Documents
APPLICATION
If we feel that the emerging leader possesses the six core characteristics of an Alliance Worker, he / she will be asked to fill out the Application for Ministry and submit the necessary documents. For those who have not completed the Alliance Polity course, they will need to first sign up for the course.
Related Documents
ACCREDITATION / LICENSING
An accreditation interview will be scheduled upon completion of the application process. For those emerging leaders who pass the interview, they will be accredited, meaning that they are eligible to serve in a C&MA ministry. A Provisional Worker license will only be issued by the District Superintendent when the emerging leader is placed in a C&MA ministry.
Related Documents
ONGOING DEVELOPMENT
All Provisional Workers are placed on the ordination / consecration track and they are expected to fulfill the ordination / consecration requirements in 2 – 3 years. A mentor will be assigned to each emerging leaders to equip, coach, and encourage him / her to complete this process. Upon successful completion of the process and passing the ordination / consecration interview, the emerging leader will be ordained / consecrated in a service. If an emerging leader subsequently does not feel that ordination / consecration is his / her ministry path, he / she can request to change his / her license to a Church Ministry Worker license.
Related Documents
MENTOR
Mentors are a significant building block in the entire leadership development process. Mentors are carefully selected and trained, and work closely with the emerging leaders as their spiritual leader, mentor, coach, and friend.
PASSWORD PROTECTED
The Mentor Section is password protected. Please contact the district office for more information.
EDITABLE FORMS
These are editable forms provided for emerging leaders and for mentors.
Emerging Leaders
Mentors
OUR ADDRESS
715 Lincoln Ave.
Woodland, CA 95695